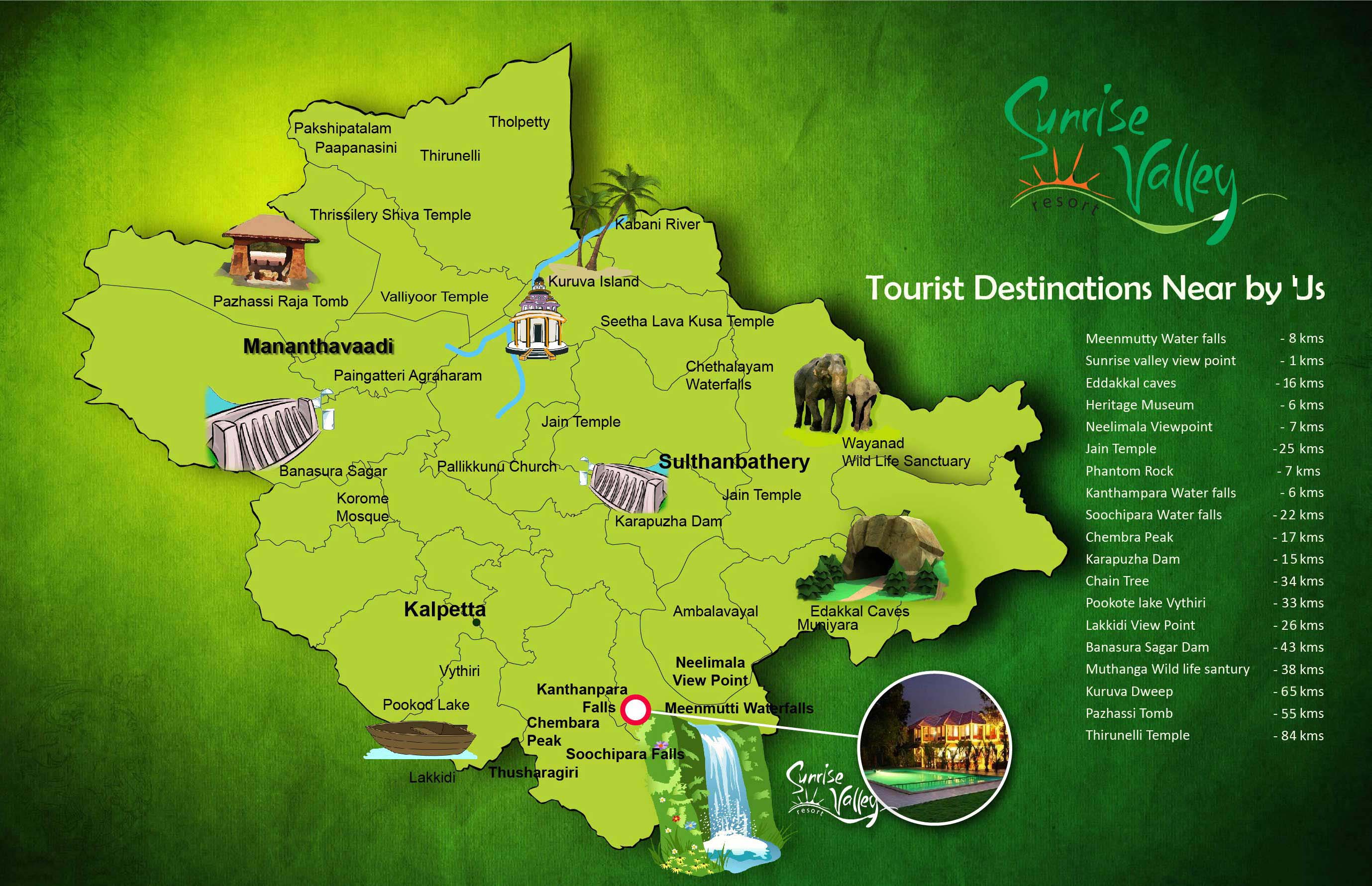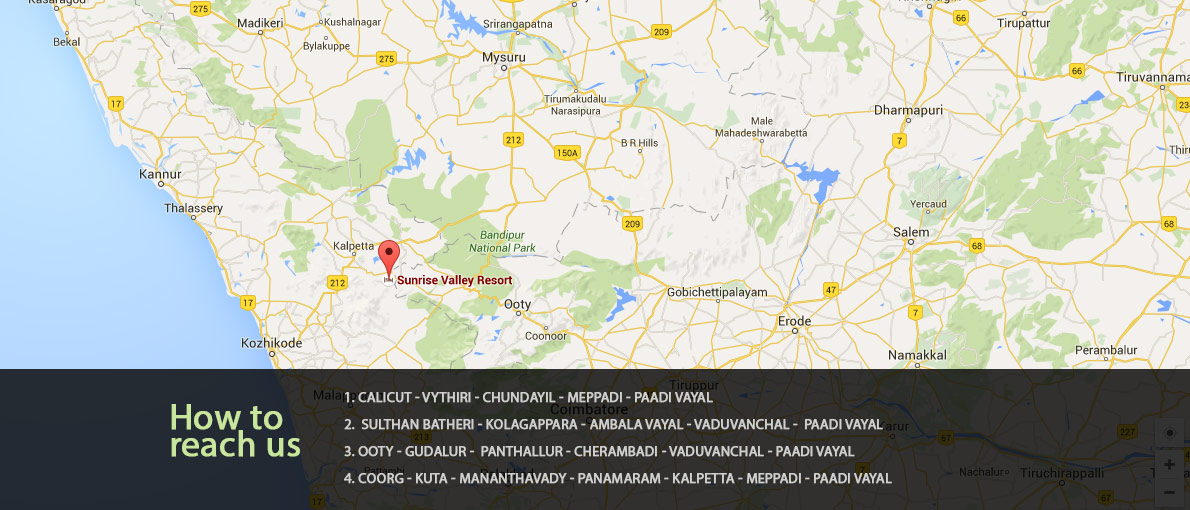 Major Tour Destinations just 10 to 15 Kms away
Meenmutty Falls
Meenmutty fall, the biggest and magnificent falls in Wayanad is situated at two kilometre hike through the forest. In Malayalam, the mother tongue of Keralites, Meenmutty means, 'Where fish are blocked'. Since there is upward falls where fishes can't swim further this name is given to the falls

The vehicle would pass only up to one km distance. The rest of the path is needed to be covered by trekking and the path to reach the falls is perilous and tiring. But once you reach the falls you will have great deal of enjoyment in store.

From Sunrise Valley Resort to Meenmutty Falls : 11 Km.
Sunrise Valley View Point
If one asks which is the must see place while passing through Wayanad, the answer is Sunrise valley. It is most striking viewpoints in Wayanad. From here onecan see the Meenmuty Hills, then another waterfall in Attamala.

The Chaliyar river in which both these falls unite can also be seen. In Meppadi-Vaduvanchal road go for 4 kms from Padivayal –kadassery road(Also known as sunrise valley road).

From Sunrise Valley Resort to View point : 1.5 Km.
Soochipara Falls
Sentinel Rock Waterfalls, also known locally as Soochipara, is 23 km away from Kalpetta, located at Vellarimala village in Meppadi panchayat. This is a popular picnic spot and trekking area and the pool at the foot of the falls is ideal for a quick dip. The more restrained can have equally good fun just taking in the scenery.

The Sentinel Rock is also ideal for rock climbing. It is a spectacular waterfall where the water cascades down in three steps from a height of about 200 m in Vellarimala, Wayanad, surrounded by deciduous, wet evergreen and tropical Shola forests. Locally referred to as Soochipara 'Soochi' meaning 'Needle' and 'Para' meaning 'Rock', The 15-20 minute drive from Meppadi to Sentinel Rock Waterfalls offers scenic views of some of the best tea estates in Wayanad.Locations: Near Meppadi Wayanad

From Sunrise Valley Resort to Soochippara Falls : 22 Km.
Chembra Peak
Chembra peak is the highest peak in Wayanad, at 2,100 metres (6,900 ft) above sea level. Chembra is located near the town of Meppady and is 8 km south of Kalpetta. It is part of the Wayanad hill ranges in Western Ghats, adjoining the Nilgiri Hills in Tamilnadu and Vellarimala in Kozhikode.

Chembra peak is accessible by foot from Meppady. .Permission from the forest office in Meppady is required for trekking up to Chembra Peak. A heart shaped lake which is called `Hridayathadakam' en route to the top of the peak is a major tourist attraction. The lake situates 4500 feet above sea level. During the rule of Britichers there was camp office. The lake is believed to have never dried up.

From Sunrise Valley Resort to Chembra Peak : 19 Km. .
Ambalavayal Museum
Located in the town of Ambalavayal, his museum is home to an interesting collection of artifacts that shed light on the history m, culture and heritage of Wayanad. Adjoining the museum is small theatre where one can watch a multimedia presentation on Wayanand.

The archaeological museum has one of Kerala's largest collections of the remnants of an era dating back to the 2nd century A.D. The articles on display are a fascination for the historian, the archaeologist and the ordinary man alike. At the museum you can see articles as varied as clay sculptures, ancient hunting equipments like bows and arrows, stone weapons and other curios.

From Sunrise Valley Resort to Heritage Museum: 13 Km.
Edakkal Caves
A trek up the Ambukuthi hill near Ambalavayal takes you to the neolithic cave site of Edakkal. Etchings found on the walls of these caves have drawn the serious attention of archeologists and historians worldwide.
The rock wall is etched with carvings depicting human and animal figures and objects of human use. These carvings speak of a highly civilized people of pre-historic age, and have drawn the serious attention of archaeologists and historians worldwide.

In 1894 then British Malabar Police superintendent F Foster found out rock tools used in neolithic era, when he was on his way for hunting. He also noticed Edakal caves after having an expedition there. Today it is a hub for many tourists, students and researchers.

From Sunrise Valley Resort to Edakkal Caves: 18 Km.
Muthanga Wildlife Sanctuary
Established in 1973, Muthanga Wildlife sanctuary is contiguous to the protectedarea network of Nagarhole and Bandipur of Karnataka on the northeast and Mudumalai of Tamil Nadu on the southeast. The management lays emphasis on scientific conservation with due consideration for the general lifestyle of the tribals and others who live in and around the forest region.

Elephants roam freely here and tigers are sighted occasionally. Various species of deer, monkeys, birds etc also live here. The Reserve is also home to a small population of tigers, a profusion of birds, butterflies and insects. A drive along the road to Muthanga and further, offers chances to watch these roaming animals. Elephant rides are arranged by the Forest Department.

From Sunrise Valley Resort to Muthanga : 41 Km.
Pookot Lake Vythiri
Pookode is a natural fresh water lake nestling amid evergreen forests and mountain slopes at an altitude of 2100 meters above sea level and having an area of 13 acre and 40 meter deep. It is 15 km away from Kalpetta.

The lake has the shape of India's map. This perennial fresh water lake, nestled among wooded hills, is only one of its kinds in Kerala. The lake has abundance of blue lotus and fresh water fishes. The forests surrounding the lake hold many wild animals, birds and flies. Boating facilities, children's park, handicrafts and spices emporium and fresh water aquarium are among the tourist attractions here.

From Sunrise Valley Resort to Pookode Lake : 31 Km. .
Banasura Sagar Earth Dam
Banasura project, 25 km northwest of Kalpetta, is a mini hydral project.
One of the significant news about the Banasura Sagar dam is that it is the largest earthen dam in India and the second largest in Asia and an ideal starting point for hikes into the surrounding scenic mountains. Banasura Sagar Dam, which impounds the Karamanathodu tributary of the Kabini River, is part of the Indian Banasurasagar Project consisting of a dam and a canal project started in 1979.

The goal of the project is to support the Kakkayam Hydro electric power project and satisfy the demand for irrigation and drinking water in a region known to have water shortages in seasonal dry. In the dam's reservoir there is a set of islands that were formed when the reservoir submerged the surrounding areas. Boating facility at the dam will help you travel between small islands in speedboats.

From Sunrise Valley Resort to Banasura Sagar Dam : 47 Km.
Karappuzha Dam
Karappuzha situates at 4 km distance from Amabalavayal. This small dam was constructed for water needs of various parts of Wayanad. There are lots of fishes in this beautiful dam and in its surroundings one would spot butterflies and birds.

From Sunrise Valley Resort to Karappuzha Dam : 16 Km. .
Kuruva Dweep
The Kuruva islands are a group of three islands located in the middle of one of the tributaries of the east-flowing river Kabani. This 950-acre tract of uninhabited land is rich in flora and fauna. This island is isolated but an array of uncommon species of birds; herbs and orchids are the monarchs of Kuruva Island. It is a must see destination for nature lovers and a popular picnic spot. A perfect destination for those want to have a lazy walk through the shoreline of a river.

Its unique geographical characteristics make it a place where not only the leaves but also silence is evergreen being away from cities and thus it has become a place of attraction. Kuruva comprises of more than 150 small islands and two fresh water ponds.Its group of many islands with a stretch of one hectare to 148 hectares.

From Sunrise Valley Resort to Kuruva Island : 62 Km.
Phantom Rock
Phantom rock is a skull shaped rock, which has a strange similarity to the face of Phantom. In the local area it is popularly known as Cheengeri Mala. Those who are adventurous enough can climb to its upper part. The surroundings of this rock have potential scenic locations. The scenic surroundings near the phantom rock make it a potential tourist trekking and camping location. The surroundings have lot of greeneries and rocks.

Location :From Ambalavayal, 2.3 kms

From Sunrise Valley Resort to Phantom Rock : 14 Km. .
Nellimala
Neelimala viewpoint is one of the majortourist attractions in the scenic Wayanad. One and half hour journey from Kalpatta you would reach Neelimala passing the coffee plantations on both sides of the route Neelimala, adjacent to Vaduvanchal. It is an exceptional venue for trekking and camping and offers lots of exciting trails. From the Neelimala pinnacle you can enjoy an enthralling view of the cascading Meenmutty falls and the gorgeous valley in its forefront. Remember to move carefully since there are pits and slippery rocks.

Location :Calicut –Ooty road Near Vaduvanchal

Sunrise Valley Resort to Neelimala View point : 7 Km.
Distance from Major Places